Flocab Curricular Planning for 5th Grade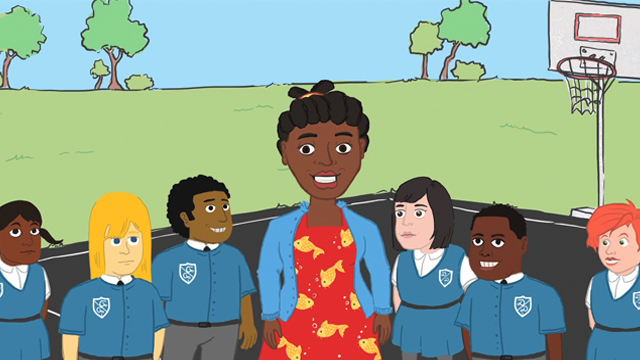 You're a 5th grade teacher who is looking for standard-aligned content that will excite and engage your students. You need the content to be flexible enough to fit your schedule and varied enough to cover the breadth of subjects that you teach each day.
Find out how to maximize Flocabulary's content to best fit the needs of you and your students.
Totally new to Flocabulary? Watch our "How to Use" video for a broad overview of our available resources.
Already know about everything that comes along with our videos, from Quick Review to Fill-in-the-Blanks to the Quiz? Then read on to learn more about the specifics of using Flocabulary for 5th grade, across all your subjects
What videos do we have for you?
We have more than 200 videos, with relevant accompanying resources, that align to 5th grade content and standards.
In addition to offering content across a range of subjects, we also have lesson plans, activities, and other supplementary materials to deepen and extend the learning. Additionally, we offer implementation tips per subject area that offer some evergreen ideas to use to facilitate the learning in the classroom using unit-related resources.
Sample Schedules
Since we are not in a position to know each teacher's content alignment for a given school year, we have laid out how our material could be used over the course of a week in your classroom. You can search for the specific topics or concepts that you teach and use the material that best fits with your curriculum. Remember, this is just a sample using a handful of our videos. We have many more in the library.
We've mapped out how Flocabulary content could be used every day of the week for Vocabulary, ELA, and Math and alternating days for Science and Social Studies.
ELA

The ELA videos span all four Common Core ELA strands: Reading (Literature and Informational Text), Writing, Speaking and Listening and Language. Students struggling with comma usage? Use the 'Comma Camp' video as a Do Now to review the rules. Introducing figurative language to improve writing? Kick the unit off with 'Wordplay' to provide a hook and reference for learning about metaphor, simile and personification. They can be used to introduce a new skill or topic or as reinforcement when working on a writing project for class.

Monday

Tuesday

Wednesday

Thursday

Friday

Five Elements of a Story
-Watch: Video
-Do: Quick Review

Using Descriptive Language
-Watch: Video
-Do: Quick Review

Five Elements of a Story
-Watch: Video
-Do: Prom Night and the Five Things exercise

Using Descriptive Language
-Watch: Video
-Do: Let's Start the Show! exercise

Five Elements of a Story
-Assess: Quiz
Using Descriptive Language
-Assess: Quiz
Math

Students can review their math facts in Multiplication/Division, practice adding, subtracting and multiplying fractions in Numbers and Operations, and explore circumference and volume in Geometry and Measurement. Depending on the skill and experience level of your individual students, you can assign them different units and then assess their progress when they take the end-of-unit quiz. Each of the math videos offer students skill practice as well as exposure to and experience with the math vocabulary that is essential to their math literacy.

Monday

Tuesday

Wednesday

Thursday

Friday

Adding Fractions
-Watch: Video
-Do: Quick Review

Adding Fractions
-Watch: Video
-Do: Adding Fractions exercise

Adding Fractions
-Do: Word Problems lesson plan

Adding Fractions
-Play: Around the World (with adding fractions) game


Adding Fractions
-Assess: Quiz
Vocabulary

The Word Up program has narrative videos that define, reinforce and use in context 10 tier-2 vocabulary words appropriate for a 5th grader. In the 'Golden Dragon' unit, for example, students will learn: accomplish, altitude, avalanche, excavate, guardian, monarch, pasture, resemble, route and summit. Each of the 14 units comes with a series of exercises and implementation guide that focus on different aspects of word work throughout the week to help solidify students' knowledge of, and facility with, the relevant vocabulary words.

Monday

Tuesday

Wednesday

Thursday

Friday

Golden Dragon
-Watch: Video
-Review: Song Lyrics and Words Defined
-Do: Personal Word Dictionary

Golden Dragon
-Watch: Video
-Do: Synonyms exercise
-Do: Fill in the Blank exercise
-Do: Connections exercise

Golden Dragon
-Do: Applying meanings exercise
-Do: Reading Comprehension exercise
-Do: Thinking Creatively exercise

Golden Dragon
-Do: Extension Questions
-Play: Conversation Competition game


Golden Dragon
-Assess: Quiz
-Extra: Crossword Puzzle
Science

The elementary science content spans Earth science, life science, physics and chemistry. The units can be used as discreet 'one-offs' so that they can easily be worked into a packed weekly schedule when you have some time. Your students can experience the larger questions with 'What is Science?' explores the steps involved in the Scientific Method, learn about the phases of the moon with 'Moon Phases', and educate themselves about the difference between the '3 R's' in 'Reduce, Reuse, Recycle'. Additionally, because of the core focus on vocabulary, students are also expanding their larger academic vocabularies with words like 'wax', 'wane', 'natural resources' and 'hypothesis'.

Monday

Tuesday

Wednesday

Thursday

Friday

The Water Cycle
-Do: KWL chart exercise
-Watch: Video
-Do: The Water Cycle exercise


The Water Cycle
-Watch: Video
-Do: Quiz
Social Studies

Whether you are teaching about the five themes of geography, Ancient China, or the three branches of the U.S. government, our social studies library has a rich array of resources available to you. Each video offers a set of 'key terms' to both help preview the unit as an educator and to anchor the learning for your students. The 'interactive lyrics' feature allow you to dive deeper into a particular concept or event to fill in the learning on a given topic. In addition to the traditional social studies content, our weekly current events offering 'The Week in Rap' is an interdisciplinary resource that uses the week's news as a jumping off point to learn about the world, deepen science and social studies knowledge, and work on essential reading and writing skills.

Monday

Tuesday

Wednesday

Thursday

Friday

Discovering America
-Watch: Video
-Do: Quick Review

Discovering America
-Watch: Video
-Do: History Debate lesson plan


The Week in Rap
-Watch: Video
-Do: Quick Review and Fill in the Blanks
-Do: Key terms and general vocabulary
-Discuss and Write: Q & A
Life Skills

Our Social Emotional Learning videos cover topics like bullying, conflict resolution, and goal setting. Each video comes with an accompanying activity that asks students to apply the concepts to their own lives and self-reflect. This series can be used proactively as part of establishing classroom culture and behaviors, or prescriptively as issues or discussions arise.

Monday

Tuesday

Wednesday

Thursday

Friday

Conflict Resolution
-Watch: Video
-Do: Fill in the Blank
-Discuss: Conflicts that come up in the classroom

Bullying
-Watch: Video
-Do: Quick Review
-Do: Bully, Bullied, Bystander activity

Get Students Writing Their Own Rhymes
On top of any implementation schedule choice, we offer a full lesson sequence to get students writing their own academic rhymes. The lessons cover rhyme-writing to master vocabulary, telling a story and more. And we have a large selection of free beats students can use and download to perform their raps for the class.
Share your ideas and requests with us!
Is there a video topic you'd like to see? Contact us and let us know! Many of our most recent videos have come from teacher requests. We'd also love for you to share any creative lesson plan you've developed for your 5th grade class. We'll post them so that the Flocab community can learn from your example!